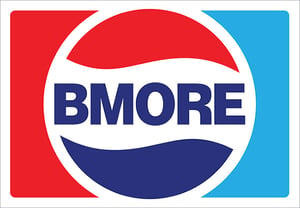 $

3.00
Bmore Cola stickers have arrived! Our first-ever vinyl sticker. Just as fresh as our Bmore Cola t-shirt but with superb, palm-sized sticking power!
Whether you're looking to radify your skateboard, laptop, the bumper of your '85 Camaro, or just itching to hit the streets - these bad boys measure up at a handy trading card size of 3.625 x 2.5 inches!
Dripping with Super Radness, the quality can't be beat! Grab a couple for yourself and a few more for your friends!
---
Designed in Baltimore.
Expertly silkscreened in sunny California by Sticker Robot.
100% Waterproof and Weatherproof!
★ Limited Edition of 250!
Rest easy. The Super Rad Guarantee has you covered.
---
Quick! Like Super Rad Design on facebook or instagram and be automatically entered for a chance to win a free t-shirt!